Planet Jupiter Solar Powered Spinning Globe with Acrylic Stand
---

Get an in-depth look at the planet Jupiter that usually would only be possible through a high-powered telescope.
Our Jupiter MOVA Globe uses images obtained from NASA, allowing you to get a close-up view of our solar system's largest planet. Jupiter's famed blue and brown bands are depicted in mesmerizing detail, along with the swirling storm known as the 'great red spot.' You'll find it's an instant hit for astronomy enthusiasts or anyone who appreciates the natural beauty of the universe.
JUPITER MOVA GLOBE
Jupiter globe uses images from NASA
Rotating globe turns using ambient light
Hidden magnets provide movement
No cords or batteries
4.5"
Comes with Acrylic Stand, upgrade to wooden today
How it Works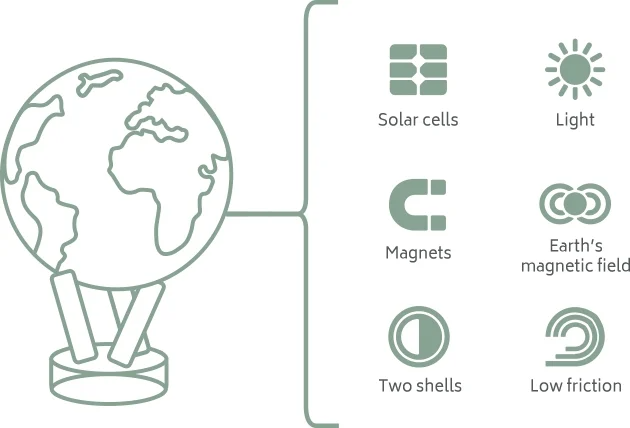 MOVA Globes combine effortless performance with eye-catching graphics. Each handcrafted globe mingles vibrant artwork with our patented technology for flawless rotation without batteries or messy cords. Hidden solar cells use ambient light for power, while the earth's magnetic field provides the necessary torque. These elements work in unison to power a whisper quiet mechanism, allowing the globe to rotate within a clear outer shell. Each piece is assembled with such precision, it appears the inner and outer layers are one – rotating without any outside power source.
Warranty
MOVA Globes are assembled by hand using the highest quality materials. Every MOVA Globe is guaranteed to be free from defects in materials and workmanship for 1 year from the original date of purchase when handled with proper care. Please direct any warranty questions or concerns to MOVA Globes.
Great globe & superb customer service
Beautiful glove—works well even with dim ambient light (as long as it is close to a window or lamp). It does rotate faster the brighter the light. The customer service was superb —called to inquire about the globe's dimensions (it's 4.5 inches in diameter). Shipping was fast and item well packed. Very satisfied.