The Sun Solar Powered Spinning Globe with Acrylic Stand
---

The Sun MOVA Globe allows you to travel 26,000 light-years from the center of our galaxy and take in the beauty of this perfect sphere of hot plasma.
This yellow star is the heart of the MOVA solar system. This globe uses images taken from NASA for a direct look at this four and a half billion year old massive ball of gas. Swirls of deep reds and bright oranges pop on the bright yellow surface. It's an exciting, fiery addition to our stunning space collection.
SUN MOVA GLOBE
Accurate details using NASA's high resolution images
Sun globe turns using ambient light
Hidden magnets provide movement
No cords or batteries
6"
Comes with acrylic stand, upgrade today to a premium stand. 
How it Works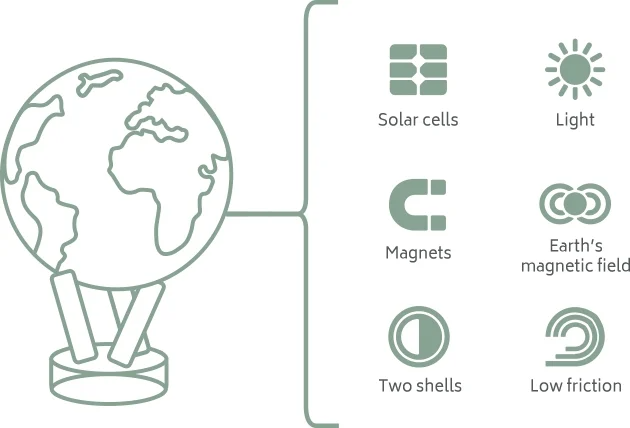 MOVA Globes combine effortless performance with eye-catching graphics. Each handcrafted globe mingles vibrant artwork with our patented technology for flawless rotation without batteries or messy cords. Hidden solar cells use ambient light for power, while the earth's magnetic field provides the necessary torque. These elements work in unison to power a whisper quiet mechanism, allowing the globe to rotate within a clear outer shell. Each piece is assembled with such precision, it appears the inner and outer layers are one – rotating without any outside power source.
Warranty
MOVA Globes are assembled by hand using the highest quality materials. Every MOVA Globe is guaranteed to be free from defects in materials and workmanship for 1 year from the original date of purchase when handled with proper care.
Great Customer Service
Was very happy with the way I was treated and helped at the counter. I would shop there anytime.
Sun globe
Very cool. Prompt shipment and good seller