Planet Venus Solar Powered Spinning Globe with Acrylic Stand
---

Explore the fiery terrain of our 'sister planet,' Venus, captured with astounding clarity using NASA's satellite imagery.
Venus is the second brightest object in the solar system and, for this reason, is often called the 'Morning Star'. Named for the goddess of love in Roman mythology, Venus boasts a bold color palette, full of flaming red and orange hues–colors of passion and beauty. It is said that the Romans named the planet after one of their most prominent gods because it was the brightest of all the planets. We've captured Venus' natural allure and scaled it down to create this beautiful desktop Venus replica.
VENUS MOVA GLOBE
Uses NASA's high-resolution images of Venus
Rotating Venus globe turns using ambient light
Hidden magnets provide movement
No cords or batteries
4.5"
Comes with acrylic stand, upgrade today to a premium wooden stand
How it Works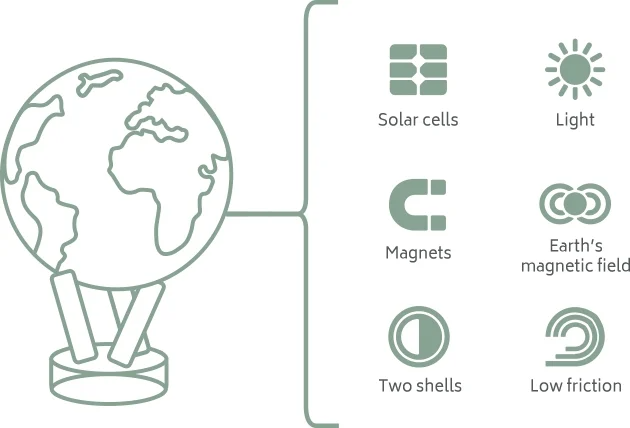 MOVA Globes combine effortless performance with eye-catching graphics. Each handcrafted globe mingles vibrant artwork with our patented technology for flawless rotation without batteries or messy cords. Hidden solar cells use ambient light for power, while the earth's magnetic field provides the necessary torque. These elements work in unison to power a whisper quiet mechanism, allowing the globe to rotate within a clear outer shell. Each piece is assembled with such precision, it appears the inner and outer layers are one – rotating without any outside power source.
Warranty
MOVA Globes are assembled by hand using the highest quality materials. Every MOVA Globe is guaranteed to be free from defects in materials and workmanship for 1 year from the original date of purchase when handled with proper care.  Please contact MOVA globes with any questions or concerns on warranty.