Our Moon Solar Powered Spinning Globe with Acrylic Stand
---

No need to wait for the next lunar cycle to witness the beauty of a full moon.
It may take the moon an entire month to transition from full coverage to full moon, but you can appreciate its alluring blue/grey color and dark craters any time with this unique moon decor. The Moon MOVA Globe was created using illuminated images of the moon taken from NASA's satellites photographs, giving it an exceptional level of realism perfect for any gift.
MOON MOVA GLOBE
Topographically accurate lunar globe
Uses topographic images from NASA
Rotating globe turns using ambient light
Hidden magnets provide movement
No cords or batteries
4.5" or 6"
Comes with acrylic stand, upgrade to a premium wooden stand
How it Works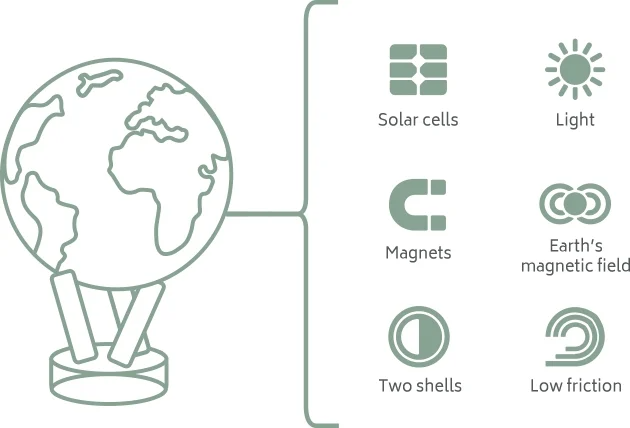 MOVA Globes combine effortless performance with eye-catching graphics. Each handcrafted globe mingles vibrant artwork with our patented technology for flawless rotation without batteries or messy cords. Hidden solar cells use ambient light for power, while the earth's magnetic field provides the necessary torque. These elements work in unison to power a whisper quiet mechanism, allowing the globe to rotate within a clear outer shell. Each piece is assembled with such precision, it appears the inner and outer layers are one – rotating without any outside power source.
Warranty
MOVA Globes are assembled by hand using the highest quality materials. Every MOVA Globe is guaranteed to be free from defects in materials and workmanship for 1 year from the original date of purchase when handled with proper care. Please contact MOVA Globes with any questions or concerns on warranty.